My Blog
Posts for: October, 2017
By David Mayer, DDS
October 25, 2017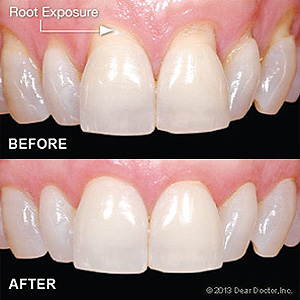 If you've suddenly noticed your smile looking more "toothy," you may have a problem with your gums. They may have lost their normal attachment to your tooth and begun to shrink back — or recede.
Millions of people have some form of gum recession. The most common cause is periodontal (gum) disease, but it's not the only one. You may be more susceptible to gum recession because of heredity — you have thin gum tissues passed down to you from your parents. You may also be brushing too hard and too often and have damaged your gums.
Healthy gums play an important role in dental health. The crown, the tooth's visible part, is covered with a hard, protective shell called enamel. As the enamel ends near where the root begins, the gums take over, forming a tight band around the tooth to protect the roots from bacteria and acid.
Receding gums expose these areas of the tooth meant to be covered. This can lead to another tell-tale sign — tooth sensitivity. You begin to notice pain and discomfort while you consume hot or cold foods. And because it leaves your teeth and gums looking much less attractive, it can affect your confidence to smile.
Fortunately, though, we can help restore receded gums. If you have gum disease, it's imperative we treat it as early as possible. We do this by removing plaque, a thin film of bacteria and food particles that triggers the infection. We use special techniques and hand instruments to remove plaque and calculus (hardened plaque deposits) from all tooth surfaces including along the roots.
Gum disease treatment can help stop and even reverse gum recession. In some cases, though, the recession may have advanced too far. If so, we may need to consider surgically grafting donor tissue to the recessed areas. Depending on the site and extent of recession, this can be a very involved procedure requiring microscopic techniques.
The best approach, though, is to take care of your gums now. Daily brushing and flossing removes harmful plaque; regular dental visits take cleaning a step further and also give us an opportunity to detect disease early. By looking out for your gums now you might be able to avoid gum recession in the future.
If you would like more information on diagnosing and treating gum recession, please contact us or schedule an appointment for a consultation.
By David Mayer, DDS
October 10, 2017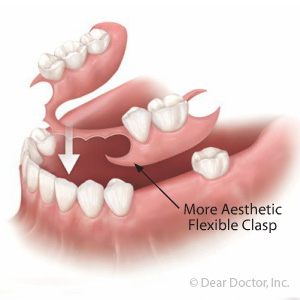 If you've lost some teeth you may eventually want to replace them with dental implants. Implants by far are the restoration of choice due to their life-likeness and durability. But those advantages don't come cheaply — implants can be expensive especially for multiple teeth.
If you're forced to wait financially for implants, you still have other intermediary options like a removable partial denture (RPD). The conventional RPD has a rigid acrylic base colored to resemble gum tissue supported by a metal frame with attached prosthetic (false) teeth at the missing teeth locations. They're held secure in the mouth through metal clasps that fit over the remaining teeth.
But these conventional RPDs can sometimes be uncomfortable to wear and don't always cover the bottom of the gum completely. If this is a concern, you might consider an alternative: flexible RPDs. The base of this RPD is made of a form of flexible nylon rather than acrylic plastic. They're much more lightweight but still fit securely in the mouth with thin plastic extensions rather than metal clasps. The base can also be more easily formed to cover areas where gum tissue may have receded.
While flexible RPDs hold up better to wear and tear than their conventional counterparts, they must still be maintained like any other appliance. They can accumulate plaque (bacterial biofilm) responsible for tooth decay and periodontal (gum) disease, so daily thorough cleaning is a must. And if there fit becomes loose they can be more difficult to reline or repair than other types of dentures.
They also share a common weakness with other dentures — they can't prevent and may even stimulate bone loss. As bone ages, old cells dissolve and new ones form to take their place. As we eat and chew our teeth transmit the forces generated through the teeth to the bone to stimulate it to grow. RPDs and other dentures can't transmit this stimulus, so the bone replaces much slower to the point that the bone volume can diminish.
That's why it's best to consider any RPD as a temporary solution until you can obtain an implant for a more permanent and bone-friendly option. In the meantime, though, an RPD can provide you with a great solution for both form and function for missing teeth.
If you would like more information on RPD choices, please contact us or schedule an appointment for a consultation. You can also learn more about this topic by reading the Dear Doctor magazine article "Flexible Partial Dentures: An Aesthetic Way to Replace Teeth Temporarily."