My Blog
Posts for tag: GERD
By David Mayer, DDS
May 24, 2019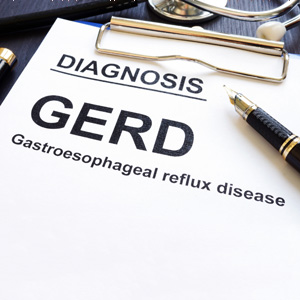 Most dental problems arise from tooth decay and periodontal (gum) disease. But they aren't the only source of danger to your teeth—gastroesophageal reflux disease (GERD) could be just as damaging to your tooth enamel as dental disease.
GERD usually occurs when a ring of muscles at the top of the stomach weaken, allowing stomach acid to enter the esophagus. This resulting acid reflux can make life unpleasant and pose potential health dangers—over time it can damage the lining of the esophagus and cause ulcers and pre-cancerous cells. It can also erode tooth enamel if acid enters the mouth and raises its level of acidity.
This can be a problem because acid can soften and dissolve the mineral content of tooth enamel. This is the primary cause of tooth decay as acid produced by oral bacteria attack enamel. The more bacteria present, often thriving in dental plaque, the higher the potential levels of acid that can damage enamel. Stomach acid, which is strong enough to break down food, can cause similar harm to enamel if it causes higher than normal acidity in the mouth.
There are some things you can do to protect your teeth if you have GERD, namely manage your GERD symptoms with lifestyle changes and medication. You may need to avoid alcohol, caffeine or heavily acidic or spicy foods, all known to aggravate GERD symptoms. Quitting smoking and avoiding late night meals might also ease indigestion. And your doctor may recommend over-the-counter or prescription drugs to help control your acid reflux.
You can also boost your teeth's enamel health by practicing daily brushing and flossing—but not right after a reflux episode. The enamel could be softened, so brushing can potentially remove tiny particles of mineral content. Instead, rinse with water mixed with or without a little baking soda to help neutralize acid and wait about an hour—this will give saliva, the mouth's natural acid neutralizer, time to restore the mouth's normal pH level.
And be sure you're using a fluoride toothpaste. Fluoride strengthens enamel—in fact, your dentist may recommend topical fluoride applications to boost the effect.
These and other tips can help minimize the effects of GERD on your dental health. With an ounce of prevention, you can keep it from permanently damaging your teeth.
If you would like more information on managing your dental health with GERD, please contact us or schedule an appointment for a consultation. You can also learn more about this topic by reading the Dear Doctor magazine article "GERD and Oral Health."
By David Mayer, DDS
November 25, 2018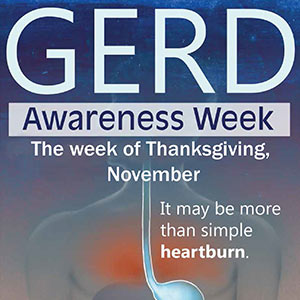 Not coincidentally, GERD Awareness Week overlaps with the Thanksgiving holiday. Many people get acid indigestion from time to time, especially during this month of major feasting, but if you suffer from more than occasional acid reflux, you may be among the 20 percent of U.S. adults with gastroesophageal reflux disease, or GERD. For many individuals, painful heartburn often accompanies acid reflux; however, for others there are few or no symptoms. In the latter situation, dentists may be the first to suspect GERD based on what we see during a regular dental exam.
With GERD, acid washes up from the stomach into the esophagus or throat, and even into the mouth. If the condition is not treated, the repeated contact with acid can lead to ulcers and cause pre-cancerous cell changes along the esophagus lining. In addition, the acids can eat away at tooth enamel and harm the soft tissues of the mouth, which may result in severely eroded teeth and chronic gum disease. Unfortunately for those who have relatively minor symptoms, GERD may go undetected until serious damage has been done. For this reason, diagnosis and treatment of GERD is very important.
You can play a big role in managing your GERD symptoms. Besides taking any over-the-counter or prescription medication your doctor recommends, you can help control acid reflux by eating smaller meals, avoiding foods and beverages that trigger heartburn, refraining from eating within three hours of bedtime, and resisting the urge to recline right after eating. Also, quitting smoking and taking off extra weight can help greatly.
Further, it is important to take steps to protect your teeth if you suffer from GERD. Here are some tips:
Neutralize acid by chewing on an antacid tablet or rinsing your mouth with half a teaspoon of baking soda mixed into a cup of water.
Don't brush your teeth immediately after an episode of acid reflux, as this could damage the weakened tooth enamel. Instead, rinse your mouth with water to dilute the acid and wait an hour before you brush to allow your saliva to rebuild the minerals on the surface of your teeth.
Schedule regular dental visits to monitor the health of your teeth and gums. Depending on your specific situation, we may recommend a particular treatment to help strengthen your teeth.
Our goal is to help you preserve your teeth for life, so be sure to tell us if you have been diagnosed with GERD or any other medical condition. If you have questions, contact us or schedule an appointment for a consultation. You can learn more in the Dear Doctor magazine articles "GERD and Oral Health" and "Tooth Decay: How to Assess Your Risk."
By David Mayer, DDS
November 05, 2018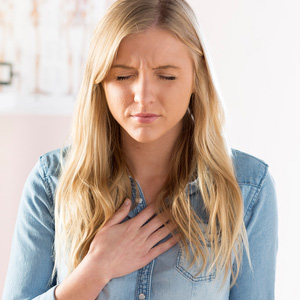 Gastroesophageal reflux disease (GERD) is a digestive disorder that can lead to a number of serious health problems. One of them, tooth erosion, could ruin your dental health.
Your stomach uses strong acids to break down food during digestion. A ring of muscle just above the stomach called the esophageal sphincter works as a one-way valve to allow food contents into the stomach but prevent acid from traveling back up through the esophagus.
GERD occurs when the esophageal sphincter weakens and starts allowing acid into the esophagus and potentially the mouth. The acid wash can eventually damage the esophageal lining, causing pain, heartburn, ulcers or even pre-cancerous cells.
Acid coming up in the mouth can cause the mouth's normally neutral pH to slide into the acidic range. Eventually, these high acid levels soften and erode tooth enamel, increasing the risk of decay and tooth loss.
Accelerated erosion is often a sign of GERD—in fact, dentists may sound the first warning that a patient has a gastrointestinal problem. Unfortunately, a lot of damage could have already occurred, so it's important to take steps to protect your teeth.
If you've been diagnosed with GERD, be sure to maintain good oral hygiene practices like brushing or flossing, especially using fluoride toothpaste to strengthen enamel. But try not to brush right after you eat or during a GERD episode: your teeth can be in a softened condition and you may actually brush away tiny particles of mineral. Instead, wait about an hour after eating or after symptoms die down.
In the meantime, try to stimulate saliva production for better acid neutralization by chewing xylitol gum or using a saliva booster. You can also lower mouth acid by rinsing with a cup of water with a half teaspoon of baking soda dissolved in or chewing on an antacid tablet.
You can also minimize GERD symptoms with medication, as well as avoiding alcohol, caffeine or spicy and acidic foods. Try eating smaller meals, finishing at least three hours before bedtime, and avoid lying down immediately after eating. Quitting smoking and losing weight may also minimize GERD symptoms.
GERD definitely has the potential to harm your teeth. But keeping the condition under control will minimize that threat and benefit your health overall.
If you would like more information on the effects of GERD on dental health, please contact us or schedule an appointment for a consultation. You can also learn more about this topic by reading the Dear Doctor magazine article "GERD and Oral Health."